Leclerc (T.5)
Manufacturer: Revell AG. (Kit #03131)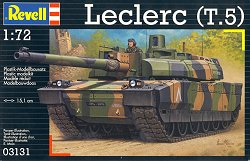 Until now, anyone wanting to build a model of the newest French main battle tank had to find one of the rare ADV Mini Leclerc kits, which is not easy. Although it is an awesome model, the ADV kit is resin, which many people find to be a turnoff. So Revell is continuing with their series of modern main battle tanks of the world, with this outstanding kit.

As with all of Revell's newest kit, this one is a superb example of model engineering, with only a few minor deficiencies, those being the closed driver's hatch and no crew figures. The molding quality is first-rate, with no flash or sinkmarks on my sample, and the detail is very crisply molded.

Revell also continues the practice of allowing us to completely build and paint the wheel/track assemblies before attaching them to the hull, a feature that I really appreciate.

As a general comparison with the ADV resin kit, it is difficult to say that one is better than the other. I really like the ADV kit because the resin was able to hold much finer detail than plastic, such as sharper edges on the grenade launcher ports, and the very finely-cast non-stick surface on certain areas of the turret and hull. I know that some people say that this surface should not be visible at this scale, but I disagree. All Revell needed to do was have a very rough, or matte finish on the areas that needed this non-skid surface, instead of making it highly polished like the rest of the tank surfaces, but they didn't. I also appreciate the fact that the ADV kit came with a crew figure, as well as more stowage on the rear of the turret, and all the tiny handholds molded onto the kit. But the Revell kit is superior in having both turret hatches molded open, as well as the possibility of easily opening up the driver's hatch, with some careful surgery. There are also more options as far as the wheels, tracks and side skirts are concerned, and it comes with spare fuel drums.

The markings are simple, giving two options. Although thin, as you can see they are printed out of register, as always.
Unfortunately, I have only a very few general references for this tank. According to these, the kit scales out well to 1/72nd, but I'll be able to better measure it once it is built. All in all, this is another outstanding model from one of the leaders in the today's marketplace.
If anyone knows of a good English-language reference for the Leclerc, I would like to hear about it. Thanks.
---