Jagdpanther
Revell AG. Kit #03111
I have called this kit a great disappointment to me, but that is simply because it is closer to 1/76th scale than 1/72nd. As far as the quality of the model itself, it is a really nice kit, and for those of you not as fixated on 1/72nd scale as I am, you will be extremely happy with it.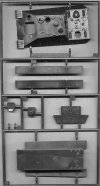 Although many of the kit parts resemble those from the Revell Panther kits, this is actually a completely new model. Like all of Revell's newest releases, the detail and molding are really very well done.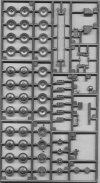 The wheels are spectacular.

The wheels are glued to the chassis on backing plate which are separate from the hull. This allows the modeler to completely paint and assemble the wheels and tracks before having to attach them to the hull.

I think that the tracks are very well molded, but are a little chunky. Like the Panther kits, the individual links are too large, and consequently, the sprocket wheels have an incorrect number of teeth.

This kit includes a number of optional parts, which allow the modeler to build either the early or late versions of the Jagdpanther, or any vehicle exhibiting characteristics intermediate between the two. Some of the options include the main gun, the gun mantle, the exhaust pipes, and the engine intake vents.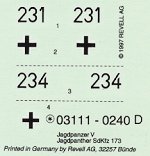 The decals are simple; just some numbers and crosses. Like other Revell decals, they are very thin, matte, and well-printed.
As I mentioned above, this kit is too small for 1/72nd. According to the dimensions in Achtung Panzer No. 4 - Panther, Jagdpanther and Brummbar, the Encyclopedia of German Tanks of World War Two by Chamberlain and Doyle, and Panzer Tracts No. 9 - Jagdpanzer, by Jentz and Doyle, there is variation in the scale of the kit, depending on which dimension I measure. In some areas, the kit is 1/76th, in others, it is about 1/74th. When I bought the kit, I was hoping for a high-quality replacement for the ESCI Jagdpanther, but unfortunately, this is not it.
---