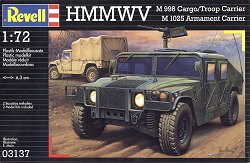 This is the second time Humvees have been made in plastic (the first being from MW), but it won't be the last. Dragon has announced several versions of this most ubiquitous utility vehicle as well. How will it compare with this new kit from Revell?
This Revell kit is superior to the older MW kit, which was a limited-run model. The molding is better, the detail is superb, and for the most part, it is also a very accurate kit. Or rather, kits, because the box contains two complete models: one M998 troop carrier, and one M1025 weapons carrier. (It does not allow you to build two of either one type, but rather one of each.)
These are the parts that are included (note that only one set of wheels are shown, but two sets of that sprue are included):
The best way to review Revell kits is to point out errors and weaknesses, because usually there are very few of them, as is the case here. About the only error I have found, and is well-known, is the fact that the wheels are too small in diameter. So far, two companies (Calibre72 and MIG) have produced replacement wheels in resin. Not only are these replacements the correct size, but they also have very detailed treads.
Although the floor of the interior is detailed, the inner walls are not, nor are the insides of the doors. One additional error that Gert ten Brink pointed out to me, and I never would have picked up on it otherwise, is that the .50cal machine gun is mounted in its cradle upside down! All other details are extremely well done, and I truly think that it will be tough for Dragon to beat this kit.
An extremely thin sheet of clear acetate film is included to cut out the windows (templates are provided). This is far superior to the injection-molded clear styrene included in most kits. Markings are included for four versions: two in Kosovo (one of each), one in Afghanistan (M1025), and one in Iraq, 2004 (M998).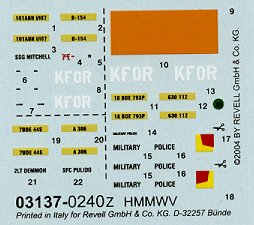 Thank you very much to Revell AG for providing the review sample.