(Scans by Doug Chaltry)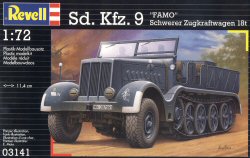 My wife was wondering all through the last months about my eagerness to accompany her on her way to the supermarket and even into the fashion shop. Don't you all worry I was not ill, I had just fallen into a hunting fever. I admit I'm a real Famo maniac and since the first announcement that Revell would release a 'bull' in 1/72 I got nervous. My secret hunting place was a simple toy shop at my local shopping mall here in Germany. Now you may guess where that sudden rather perverted interest for shopping came from. Each time we stayed there, I rushed into the toy shop and looked into that little Revell corner and came out with disappointment on my face. All that, again and again since two days ago. Finally there she was: the Revell Famo. Only one box ... I grabbed it and, looking anxiously over my shoulder like Richard Kimble on the run, I dragged my trophy home. And yes that dogged creeping up on the prey paid off.
The Revell Famo is a super model.
Revell even had a bonus surprise for me. Opening the box a little note fell out saying: "with this kit a sprue is included which is not mentioned in the instructions and is not needed to complete the model". This sprue contains a complete earth spade used as a 'sonderausführung' for Famos involved in heavy winching. You may see a 1/35th scale Famo with this special equipment made by Bob Oehler at the Missing Lynx gallery. Hopefully this part will stay with the kit as it allows some quite interesting variations.
The kit comes in five sprues (and the "extra" sprue) plus a strip of clear film and a decal sheet. Everything is very clean and clear. No flash anywhere and the parts are highly detailed. (There are two scans pictured of the tracks: front and back; only one sprue is included with the kit.)
Separating the parts has to be done carefully not to injure the precisely engraved details. A fresh hobby knife blade is surely advisable. As I see it no sanding or putty use will be required at all. Moulding quality is excellent. Some parts are so thin you may even look through them. A fact that may prove that modern injection moulding can compete with the finest resin kits that are out on the market today.
Some highlights of the Revell Famo from my point of view are:
A complete engine block; the sides of the hood may be left open and there are lots of opportunities for further super-detailing.
Fully structured undercarriage and chassis frame from below (which sadly ends at the upper line of sight where superstructure begins, meaning that some parts look like a half-sliced grapefruit already eaten up).
Fully detailed (of course) link and length tracks.
Fully structured cabin bottom and interior (mostly moulded as one part).
Accurate representation of tail board and side walls. The ribbed structure seems to be really pressed out from the inside. The slightly dented appearance of the side walls is retained.
Sufficient representation of the rear trailer coupling (a complicated part where you could add a lot of levers and stopcocks if your magnifying facility is really sharp).
A pair of drawing bars for towing a StuG or Pz. III, which is a real nice feature.
Nicely detailed gun holder rod in the crew compartment (it cries for a Preiser K98 to be inserted there).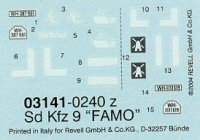 Still there are some points of criticism which you could say is for rivet counters only. But as this is really a top model it has to fulfill the high expectations which decide between four or five stars. Issues that could have been done better:
The front wheels are made up from two halves. Actually they fit together well but the resulting tyre tread does not look realistic enough.
The cabin side grip handles are moulded in one part with the cabin sides. They are too solid and clumped together with the board. For an accurate representation you would have to cut them off, which is already surgery and replace them by using thin brass rod.
Tilt hoops for the load area canvas tilt are depicted in stowed position only.
The canvas tilt for the crew cabin is completely missing.
The FAMO trade mark on the radiator cover would have been nice.
There are two rivet rows on the hood which are too thick and not accurate in number (really rivet counting now).
All rod-like parts, such as width indication poles and gear levers, are moulded in plastic that is very thin indeed, but probably still too thick for a precise, in-scale representation.
After all this remains a super class model, most likely representing a mid-production F3 type which could be assumed by looking at indicators like the instrument panel, the running gear, opening at the tyre rim, or the presence of the direction indicator on the side. For this it would have been produced between 1939 and 1943, but could have well appeared all the way through to the end of the war, since maintenance companies always did their best to keep the equipment in a good condition.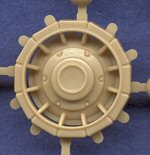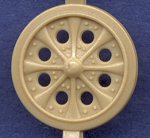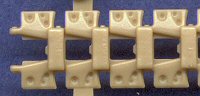 Until now the best representation of this vehicle (in my opinion) was produced by Planet Models in resin with photo etched parts (a Planet Famo I did may be viewed at http://www.ontheway.us/gallery7/JHermeyerFAMO.htm). Compared to the Planet kit, the Revell model is much better in a lot of aspects (accuracy, detailing, dimensions, no pouring blocks, photo etched parts are too flat as usual). The biggest disadvantage is still the price. Knowing that you will get three Revell Famos for the price of one Planet Famo, you could imagine to build a dio showing three Famos coupled together towing a Tiger or Panther.
Thank you very much to Revell AG for providing the review sample.