Challenger 1
Manufacturer: Revell AG.
Challenger 1: Kit #03110
Challenger 1 KFOR: Kit #03120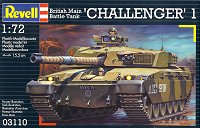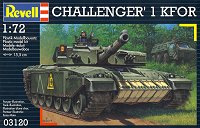 These are some of the finest models I have ever seen. The KFOR version is the same as the basic Challenger kit, with an additional sprue of parts with the add-on armor seen on the KFOR and Gulf War versions of the Challenger. In fact, the new sprue is even labeled as "Desert".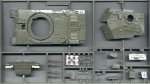 The kit exhibits Revell's now-standard, exceptionally high quality moldings. No flash or sinkmarks. The detail is amazingly abundant, and very crisply molded. The driver's and commander's hatches are molded open, but not the gunner's hatch. I wish the pioneer tools were molded separately, but at least they have good relief.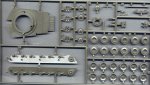 It's difficult to see on this scan, but the chassis is extremely detailed, with beautiful bolt detail modeled around the axles. Of course, none of this will be visible when constructed, unless wheels are left off for a diorama. The wheels themselves are great.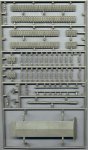 The tracks are superb. The commander's 7.62mm MG is fantastic, and the thermal shroud on the main gun is also incredibly well done for a plastic kit. A good paint job brings out the cloth texture beautifully. OK, I am now out of superlatives. Have I made my point that this kit is really really good?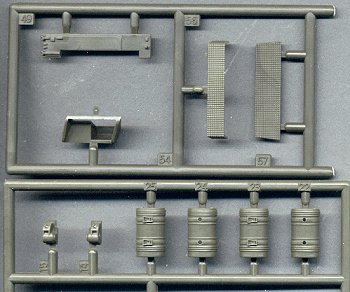 This sprue shows my main complaint about this kit, the turret stowage bins, which are molded as solid pieces of plastic. These are best replaced with scratch-built parts, or etched brass replacements, from Extratech.

This final sprue includes the additional armor and is included only in the KFOR kit. Again, very nicely done. After the initial release of the Challenger 1, I was going to scratchbuild this add-on armor, using the 1/35th resin Verlinden set as a guide, but now Revell has saved me the effort.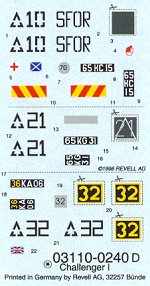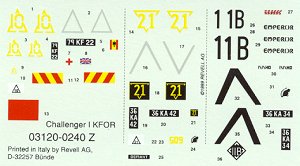 The decals on the left are from the Challenger 1 kit, and the sheet on the right is from the KFOR kit. The SFOR markings on the left are incorrect, in that they should have been printed in white, not black. These are all printed to Revell's high standard, but when I built my Challenger, I noticed that the rectangular red and yellow [convoy?] markings were too large to fit in the appropriate location. The KFOR version looks a little smaller.
These are fantastic models, some of the best I've seen, and I highly recommend them.
---