Camionnette de 1,2 t PEUGEOT DK 5 J
From Faustnik - jmgtv(at)iol.pt
Manufacturer: ITA Sarl (Kit #2019)
What you Get:
18 Parts moulded in yellow resin
Packed in a transparent bag
A sheet photos of the various stages of assembly and with some painting orientations
USEFUL References:
FRANK, Reinhard, 1994a. Cars of the Wehrmacht: A Photo Chronicle, Schiffer Mil. Hist., p. 165
FRANK, Reinhard, 1994b. Trucks of the Wehrmacht: A Photo Chronicle, Schiffer Mil. Hist., p. 170-1
LACEY, Geoff, Plan F11
VANDERVEEN, Bart, 1989. Wheels & Tracks Historic Military Vehicles Directory, After the Battle Pub.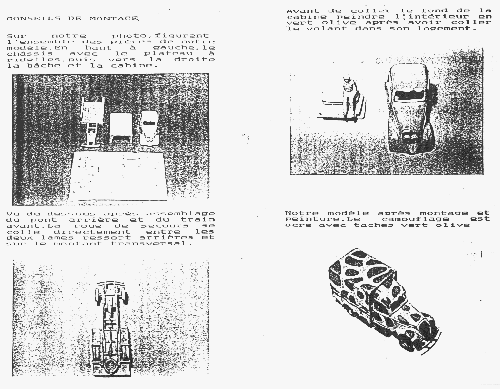 Evaluation:
First a little of background the now discontinued ITA range, this artisan specialises in French subjects, of the 1940 period, including also some German conversions, the so-called Becker conversions, on French armoured chassis. Around 1996 this range was discontinued, and entire line and moulds were buy. For a time there was the impression that the take over will mean the continuation of the line, but instead of that the kits in stock were sold by high prices, and until now they were extinct.
The resin parts are cast with the pour-method of casting, which produces a lot of flash, which will require a lot of care removing it. The parts are of medium quality, including some very delicate and thin, particularly the front grille. This model will improve if some sort of replacement could be found. There are a small number of bubbles in some of the parts, all of which will be easily filled. The main problem is the noticeable warping in some of the parts, which need the care of a hot air source.
The sketchy instructions, helps a little during construction, as the photos are a little dark, but the other side is that the model is very simple one, and if you use some goods photos of the original subject, it will be easy.
As usual in models of this vintage, you must build up the interior in the driving cab and find a suitable source for the windscreen. As a bonus a figure in French livery is already included.
Being a French vehicle produced in some large numbers, around 14500 from September 1939 until June 1941, with a lot of them in German livery. This is a common sight in German colours in almost all fronts, well until 1944.
As far as scale is concern, using the available data, the measurement of the kits parts gives the following results:
Dimensions in mm
Real
1/72
Kit
Wheel base
3385
47,01
47,8
Overall Length
5130
71,25
71,3
Overall width
1850
25,69
27,55
From this evaluation, the current model, considering a 5% tolerance, is at 1/72. The width values are without doubt due to the moulding of the cargo compartment, making it too wide.
---