StuG III Ausf. E
Manufacturer: Attack (Kit #72816)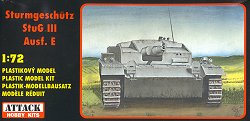 I feel that Attack has taken a step backwards with this kit. Given the relatively high quality of their earlier Pz. 38(t) kits and deriviatives, I had high hopes that this model would be much improved over their earlier efforts, but that is not the case.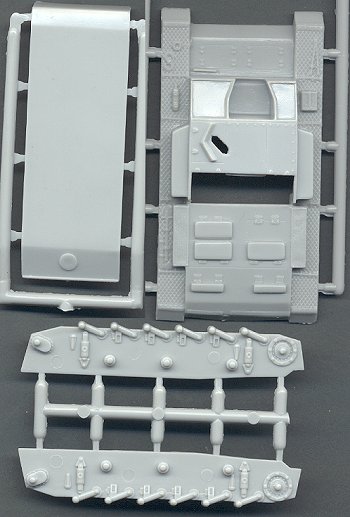 Aside from the fact that this is a limited-run kit, I am rather disappointed in the hull details. The fenders in particular are quite poor, with an exaggerated treadplate pattern. The pioneer tools that are molded onto the fenders are truly awful. But the chassis is very good.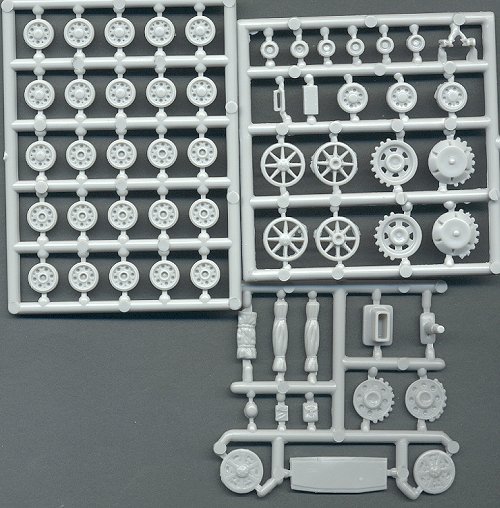 The wheels are the best part of this kit, especially the road wheels. Those are very well done, but the sprocket and idler wheels could have been molded better. There are additional sprocket and idler wheels included, which indicates a future release of an earlier version of the StuG III, but those parts are even worse. The tracks are fairly decent, although the guide teeth are mere bumps. They are best replaced with etched brass tracks. I also like some of the stowage items included, such as the helmets and boxes, but the spare gas cans are poorly shaped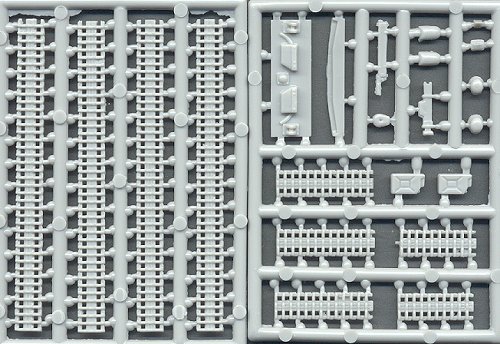 The main error I have found with this kit is the engine deck, which is from the Ausf. F. The raised vent covers were introduced with the Ausf. F, and are inappropriate for this version. It should be easy enough to grind them off, sand it smooth, and replace the hinges.
The hull length and width are very good, short by only 1mm in each dimension.
Markings are included for two vehicles, with nice color profiles on the rear of the box. Several of the decals are white, and don't show up on the scan.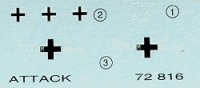 Despite the errors and deficiencies of this kit, it has a lot of potential for scratch-building and conversions. Especially when the earlier versions are released with the correct engine deck. I only hope they improve the sprocket and idler wheels a bit, which is unlikely.
References:
Achtung Panzer No.5 - Sturmgeschutz III, Stug. IV & SIG 33, by Araki (ed.)
Sturmgeschutz & Its Variants, by Speilberger
and I hesitate to mention this last one, because of the very poor drawings in it: Sturmgeschutz III in Action, by Culver.
---