Conclusion & References
---
After-market Products
As of the writing of this article, there are no etched brass detail sets yet available for the PT-76. Whether or not we will ever see any is still up in the air. I assume that we will get one eventually, but it took well over a year, I believe, after the PST T-55 was released to see a detail set for that kit.
The only after-market detail item I have seen for the PT-76 is the aforementioned turned aluminum and resin gun barrel from ARMO, which I feel is a valuable item to improve all three of these kits.
For markings, YnoT has released two sets of waterslide decals for Soviet and Warsaw Pact vehicles. Set #W71 includes two options: 1) PT-76B of the Polish Army during the invasion of Czechoslovakia in 1968, and 2) PT-76B of the Polish Army in 1970's. Set #W72 includes another two options: 1) PT-76B of the North Vietnamese Army, early 1970's, and 2) PT-76B of the Gonen Platoon of the Israeli Army, Sinai Peninsula, October 1973. These are very nice decals, and necessary for the ARMO kit, which comes with none of its own.
Bison Decals has released a set of decals for Tanks of the 1990's Balkan Wars, which includes a marking option for a PT-76 with the Serbian Militia in the 1990s.
Few appropriate crew figures are available. Exokit formerly produced a set of four Modern Soviet Tank Crew figures (one whole and one half figure, and two busts), but I believe this set is now out of production. MIG currently produces a set of three very nice Soviet Tank Crew figures in winter dress. Alemany, Milicast, MIG and AB Figures all make sets of WW II Soviet tank crew, some of which, if painted appropriately, could probably pass for modern crew figures.
Conclusions
This is one of those rare instances when I don't think it is possible to definatively recommend one kit over another. All three of these kits have advantages and disadvantages, but the bottom line is that all three are very accurate and detailed models.
The ACE kit is limited-run, and requires a small amount of extra effort to clean the parts and overcome tricky fit. But it is also the most accurate of the bunch concerning surface details, and some fine points of size and shape. It has a modicum of interior detail providing the scratch-builder a good starting point for further detailing. The open turret hatch detailed on the inside is just crying to be left open with (or without) crew figures in the opening. The tracks have the best surface detail, and the kit comes with the most marking choices.
The ARMO kit is a solid resin kit with large resin casting plugs to be removed from the hull and turret parts. Once this is done, construction is very easy, probably the quickest and easiest of the three kits. Surface detail has the best relief, though the hull detail is a little rougher than the others. The tracks suffer from accuracy and fit problems, but the fact that this kit will go together very quickly may make it appealing to wargamers in particular.
The PST kit is more cleanly molded than the others. Even though there is still some cleanup needed for many of the parts, construction of this kit will be somewhat easier and quicker than the ACE kit. There are several minor discrepancies in accuracy, but nothing that detracts from the overall appearance of the model. This kit's primary strength is the several options that it includes, such as an open driver's hatch, open water jet ports, rotating commander's periscope station, etc. The kit's four marking options are noteworthy, and its fine instruction sheet also adds to its appeal.
Basically, I would suggest that you go with which ever kit is available to you, or best fits your price range. These are all excellent models.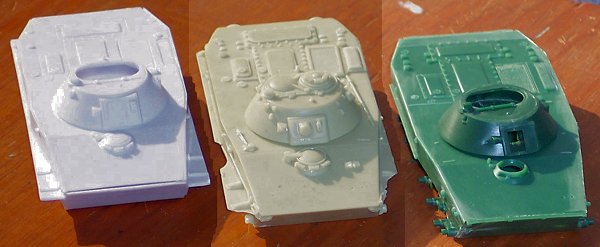 Stay tuned for construction reviews coming soon . . .
References
Printed Material:
The Greenhill Armored Fighting Vehicle Data Book, by Ian Hogg
Jane's Tanks and Combat Vehicles Recognition Guide, by Christopher Foss
T-62 (and other Soviet AFVs), Tamiya News #6
Tanks of the World, by David Miller
Soviet Armour 1945-1995 Part 1, Bronekollektsya #3/2000
Internet References:
Thank you very much to Maurice Metzger for providing the ACE review kit.